by Clarissa ~ April 30th, 2010. Filed under:
Other
.
Zachary and I were invited to a wedding for two of my college friends. Ashley, the bride, was my roommate for three years in college and a friend since freshman year. I met Brian, her now husband, at the end of sophomore year after they started dating.
Ashley and Brian got married April 18, 2010, and what a great day it was! The weather was a bit chilly, but it was very sunny. The ceremony was in a cute chapel in Glenview, Illinois, a northwest suburb of Chicago. I got to read the second reading (1 Corinthians 13) and the intercessions. Ashley's dress was very pretty, and Brian looked very handsome in his tux!
Using Zachary's navigational skills (his Blackberry) and my driving skills, we got to the reception in time and intact. The reception was Disney-themed and Ashley and Brian wore wedding Mickey Mouse ears.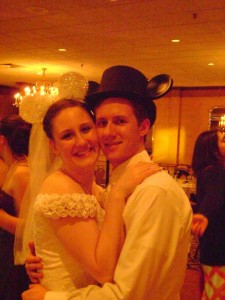 Zachary and I sat at the Buzz Lightyear table with Duey, Tiff, Stacie, Megan, Cait and Allison. All happen to be college friends of mine. When dinner was served, there seemed to be no end to the plates of food that were put on our table and everything was delicious! After diner came the dancing! I have to say that the DJ was a great one. He kept guests dancing all night. We left the reception pleasantly happy, very full, and with a few extra people to bring back to the hotel.
Ashley and Brian's wedding was a very nice, fun wedding. Congratulations to the happy couple and Zachary and I wish you all the best in your new life together!